REM Sleep Behavior Disorder -A Narrative Review
Keywords:
Parasomnia, REM sleep behavior disorder, Neurodegeneration, Parkinson's disease, Lewy body dementia.
Abstract
Approximately 43% of patients with REM sleep behavior disorder (RBD) will develop Parkinson's disease and 25% with Lewy body dementia. The long-term clinical trial of RBD patients showed over 90% risk of developing neurodegenerative diseases. REM sleep behavior disease is characterized by the enactment of dreams, involving complex motor functions. The disease is now considered a prodrome to Parkinson's disease. In the future, it is recommended for researchers to investigate the potential of REM sleep without tension as a clinical indication of neurodegenerative diseases, for which physicians can rely on to detect diseases for early intervention and treatment.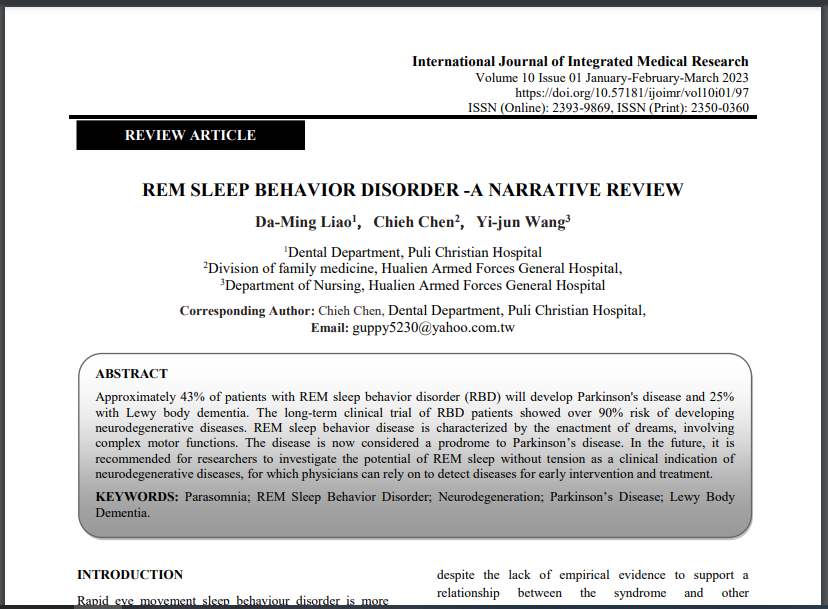 Downloads
How to Cite
Liao, D.-M., Chen, C. and Wang, Y.- jun (2023) "REM Sleep Behavior Disorder -A Narrative Review ", International Journal of Integrated Medical Research, 10(01), pp. 10–12. doi: 10.57181/ijoimr/vol10i01/97.