Subtalar Dislocation (Lateral Type)
Keywords:
Subtalar joint, dislocation open reduction
Abstract
Background: Subtalar dislocation means dislocation of the distal articulations of the talus at the talocalcaneal and talonavicular joints. Closed reduction and immobilization remains the treatment of choice. If closed reduction is failed, open reduction is required. A variety of bone and soft tissue structures may become entrapped, resulting in obstruction of closed reduction.
Methods : We retrospectively studied 6 cases of lateral subtalar dislocation. All patients were males. The average Age was 40 years old. Functional assessment was done with (AOFAS) score.
Results: All patients had underwent open reduction. Fixation with 2 (1.8) K-wires.
The (AOFAS) was improved from 55 to 100 scores.
Conclusion : Urgent closed or open reduction of subtalar dislocation is very important this will improve ankle and foot function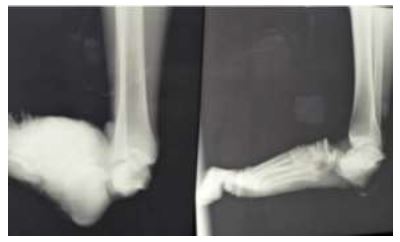 Downloads
How to Cite
Safy, M. A. (2022) "Subtalar Dislocation (Lateral Type)", International Journal of Integrated Medical Research, 9(04), pp. 84–86. doi: 10.57181/ijoimr/vol9i04/74.