Music - The upcoming symphonious antidote to stress
Keywords:
Music, symphonious, antidote, stress
Abstract
Introduction:
Music therapy has been claimed to be a useful aid in physical discomfort especially in the younger generation by improving physiological parameters and improving mental health.
Materials and methods:
The stress levels and the physiological effects of music on 88 healthy students of both genders in our medical college were assessed. Information related to demographics and their usage of music were collected along with their responses on the Perceived Stress Scale (PSS) Questionnaire. The physiological parameters were measured before, during and immediately after listening to music of their choice for 15 minutes. All collected data was analysed by SPSS 25 software.
Results and discussion:
All the parameters pertaining to the respiratory system and cardiovascular system improved after listening to music. The decrease in respiratory rate and diastolic blood pressure was significant (p<0.05). VRT improved significantly (p<0.05) when done while listening to music especially in students with moderate levels of stress.
Conclusion:
Our study underlined the beneficial effects of music in reducing stress and improving performance in students and should be advocated as an effective and easy method of stress relief.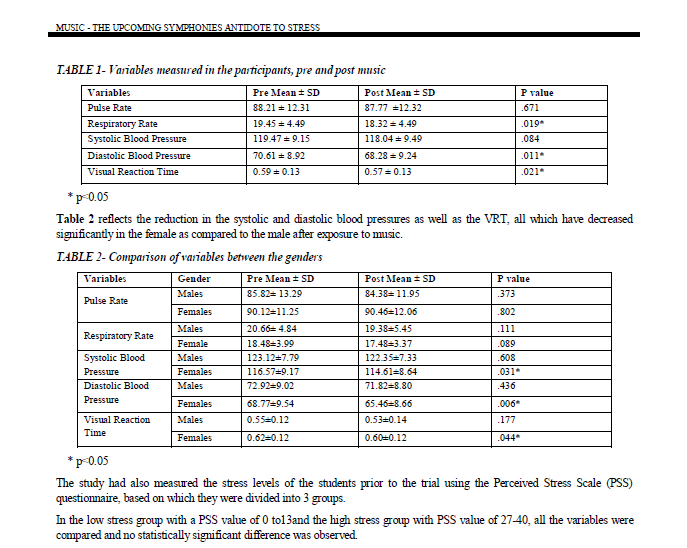 Downloads
How to Cite
Manaf, S. B., Asghar , F., Thyyib, T., Aaliya, F., Bryant Kumar, J. and Bellary Kuruba, M. (2023) "Music - The upcoming symphonious antidote to stress", International Journal of Integrated Medical Research, 10(01), pp. 04–09. doi: 10.57181/ijoimr/vol10i01/94.