Drug-Induced Rhabdomyolysis Secondary To Lenalidomide
Keywords:
Rhabdomyolysis, Lenalidomide, Creatine Kinase, Immunomodulatory drugs
Abstract
Abstract

Lenalidomide is an immunomodulator imide compound that works through its antitumor, anti-angiogenic, and anti-osteoclastogenic effects. It is increasingly used for a multitude of inflammatory disorders and cancers. Diarrhea, thrombocytopenia, neutropenia, and blood clots are well-established severe side effects of Lenalidomide, but rhabdomyolysis is a rare side effect of the drug. It is difficult to reach this diagnosis because it needs a detailed history of the evolution of symptoms and carefully ruling out other etiologies, especially other drugs. Here we present the case of a 75-year-old female who developed rhabdomyolysis and, subsequently, acute kidney injury after receiving Lenalidomide therapy for multiple myeloma. Discontinuation of the diuretics and the use of isotonic fluids led to a gradual improvement in her condition. Physicians should be aware of this potential rare complication and keep it on the differential when treating patients on Lenalidomide.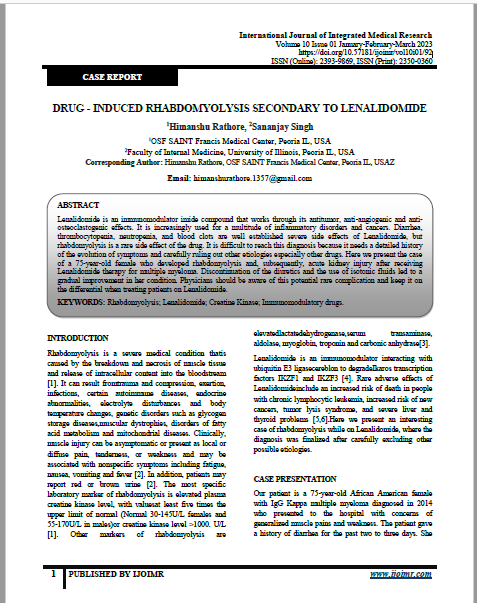 Downloads
How to Cite
Rathore, H. and Singh, S. (2023) "Drug-Induced Rhabdomyolysis Secondary To Lenalidomide", International Journal of Integrated Medical Research, 10(01), pp. 01–03. doi: 10.57181/ijoimr/vol10i01/92.